10038NAT Graduate Certificate in Cosmetic Laser And Light Therapies (Class 4 Laser)
Cost: $24,900 + $750 Admin Fee.
Contact us: for more information regarding this course or to enrol click here
This qualification reflects the role of individuals who apply substantial specialised knowledge and skills to design and safely apply non-ionising radiation treatments using intense pulsed light and laser technologies for skin rejuvenation and tattoo removal on the face and body.
In this role they make complex, high level, independent judgements in consulting with clients, analysing their skin conditions, designing and evaluating intense pulsed light skin rejuvenation treatment programs, selecting and using appropriate technology. They will also make complex, high level, independent judgements in consulting with clients wishing to remove tattoos, analysing their skin and tattoos, designing and evaluating QS Laser treatment programs, selecting and using appropriate technology. They will be able to apply it within the context of safe client and operator practices and in compliance with regulatory requirements.
UNITS
SIBBHRS705A Apply intense pulsed light and laser safety protocols
HLTIN402B Maintain infection control standards in office practice settings
LLTSKR801A Design and apply intense pulsed light and laser skin rejuvenation treatment programs
LLTTAT801A Design and apply laser tattoo removal treatment programs
ENTRY REQUIREMENT
To undertake this qualification you must hold SIB50110 Diploma of Beauty Therapy or Have significant and relevant vocational experience with a primary focus on providing facial services, skin services and hair reduction services or Evidence of significant and relevant vocational experience relating to the application of human biology, anatomy & physiology knowledge. Licensing, legislative, regulatory or certification considerations for the use of Class 4 Laser:
Queensland Radiation Safety Act 1999, licensing of operator and premises
Tasmanian Radiation Protection Act 2005, accreditation of equipment, premises and operator
Western Australian Radiation Safety Act 1975 imposes conditions, limitations and restrictions on the use of Class 4 lasers.
Other states and territories: no licensing, regulatory or certification requirements apply at the time of endorsement.
PATHWAYS INFORMATION
Not applicable
Course includes:
A comprehensive training manual
Hands on practical training with models
Consultation material
Graduate Certificate on completion
QLD Radiation Health Laser Supervised hours: Skin Rejuvenation 50 hours, Superficial Vascular Lesion Treatment 50 hours, Superficial Pigmented Lesion Treatment 75 hours, Tattoo Removal 100 hours
Delivery: The course is conducted in a manner that enables you to complete the training to suit you and your family/life situation
HOW CAN I PAY FOR THE COURSE?
Call our office to discuss a payment plan that suits you best. You may choose self-funding through pay as you go.
HOW CAN I ENROL IN THE COURSE?
We will send you an information pack about your preferred dates and an enrolment form.
All you need to do is complete the enrolment form and return this to us to secure your place in the course of your choice.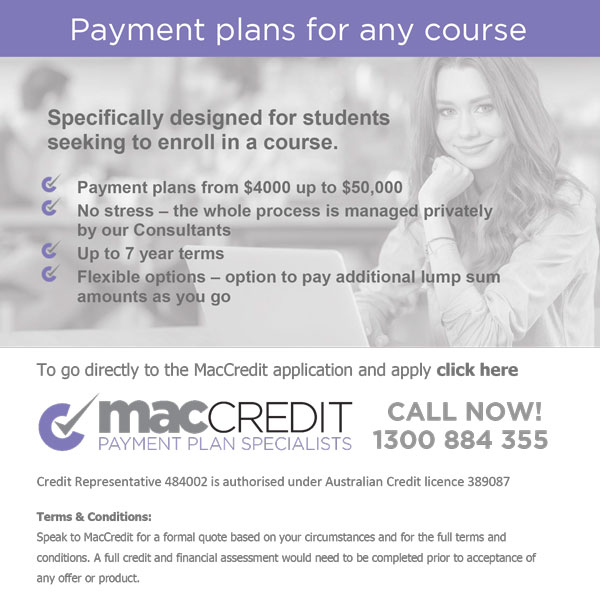 Specifically designed for students looking to take their education to the next level
Payment plans up to $40,000
No stress – the whole process is managed privately by our Consultants
Up to 7 year terms
Flexible options
Fast efficient approvals, simply apply online
To go directly to the Mac Credit application and apply click here
Credit Representative 484002 is authorised under Australian Credit licence 389087
Terms & Conditions:
Speak to MacCredit for a formal quote based on your circumstances and for the full terms and conditions.
A full credit and financial assessment would need to be completed prior to acceptance of any offer or product.
This qualification is Nationally Recognised Training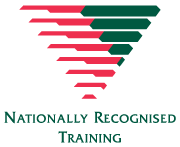 Graduate Certificate in Cosmetic Laser And Light Therapies (Class 4 Laser) 10038NAT